Chase First Banking℠ is an all-in-one bank account for kids backed by JP Morgan Chase.
It's exclusively available for children of Chase Bank customers between 6 and 17 years of age.
With convenient parental controls, hands-on learning tools, and your kid's very first debit card, the account has all of the ingredients to foster good money habits in young bankers.
In this post, you'll learn about how Chase First Banking works, including a rundown of its most popular features, how much it costs, and much more.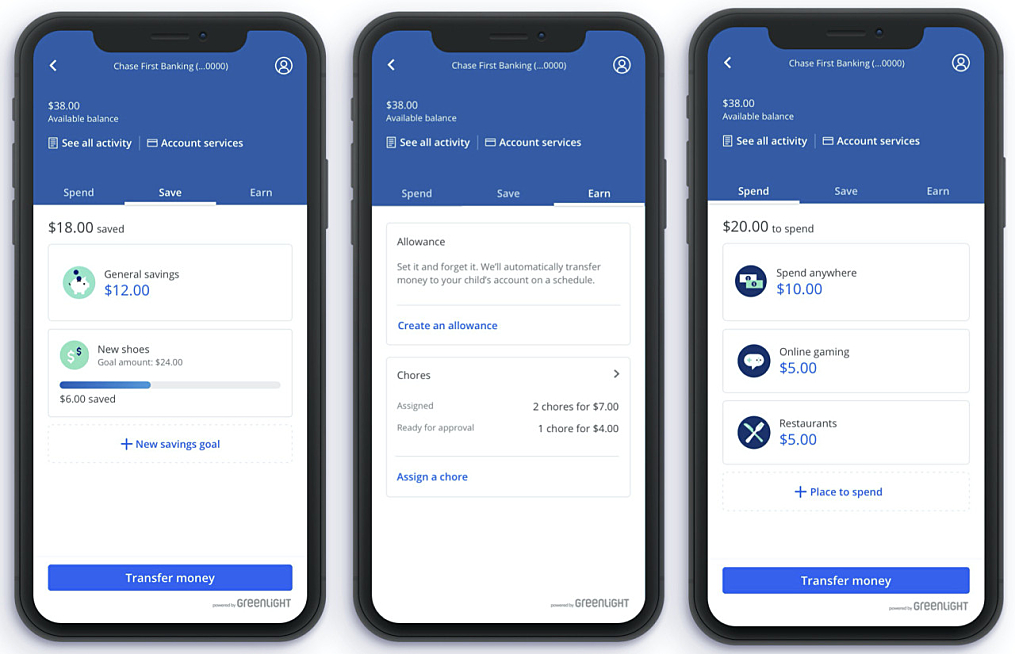 Photo credit: PCMag.com
Chase First Banking Features
Spend
Spend is similar to a traditional checking account.
This is where your child will get their first debit card, which they can use for online and in-store purchases within the parent's pre-set limits.
Kids can request additional money at any time, and parents can choose to approve or deny requests.
The card also grants access to fee-free withdrawals at Chase ATMs, and parents can set a withdrawal limit.
To be clear, Spend is not a credit card, so your child can only spend what's in the account.
Save
Save serves as your kid's first savings account. Kids can set savings goals and track their progress as they work toward them.
Unfortunately, there's no APY attached to Save, but that's not a surprise coming from one of the big four national banks.
Earn
Earn lets kids build up their available balance through an allowance or by completing tasks.
Parents can transfer money into the account on a recurring basis or as a one-off.
You can even assign chores with a monetary reward attached. Once kids mark a task as completed, parents can send the payment over from their Chase account.
Parental Controls
Chase First Banking℠ is full of safeguards that ensure that your child isn't overspending.
For example, you can set spending limits on how much they can spend on certain expenses or create a total daily or weekly amount that they can access.
To stay in the loop, you can set up real-time account alerts to keep track of where your child is using their card.
Similarly, you can add withdrawal limits for ATM transactions.
More than 15,000 Chase ATMs
Just like with adult checking accounts, Chase First Banking comes with full access to Chase's network of more than 15,000 free ATMs.
Out-of-network ATM use comes with a fee, which provides an opportunity to teach your kids about how to avoid unnecessary charges.
Chase Mobile App
Parents and kids can access online banking using the Chase Mobile app. Within the app, you can track savings goals, transfer funds (for parents), check account balances, and mark completed chores.
Additionally, parents can use the same app to handle their banking needs and monitor their kids' spending — all in one place.
The Chase app is available on both Android and iOS. It currently has a rating of 4.4 stars (out of 5) in the Google Play Store and 4.8 stars (out of 5) in the App Store.
Chase First Banking Fees
Chase First Banking is an almost entirely free account, so you and your kid don't have to worry about getting nickel and dimed.
There's no monthly service fee or minimum deposit requirement. Most importantly, kids can only spend what they have, so they won't run into any overdraft fees.
There are only a few potential fees associated with the account, as follows:
ATM Fees
If your kid uses their debit card at an out-of-network ATM, there's a $3.00 fee per transaction.
For foreign ATMs, the charge goes up to $5. Unfortunately, Chase doesn't reimburse any fees charged by the ATM, so you'll be on the hook for those as well.
Foreign Transaction Fees
If you use the card outside the US there's a 3% foreign transaction fee. This includes any purchase made in non-USD currency.
Basically, you don't want to use this card for everyday spending abroad. But it can come in handy if you're in a pinch for a 3% fee.
Card Replacement Fees
If your child loses their debit card, it's completely free to replace it via standard mail. If you need a new card ASAP, you'll pay $5 for rush delivery.
Getting Started
To sign your child up for a Chase First Banking account, you'll first need one of the following qualifying Chase checking accounts:
Chase Secure Banking℠
Chase Premier Plus Checking℠
Chase Sapphire℠ Checking
For your child to qualify, they'll need to be between 6 and 17 years old and have the same residential address as the adult account holder.
You can sign up for an account on chase.com once you log in and link your existing account.
Here's the info you'll need to sign up:
Adult and Child's full name, DOB, Social Security Number, and address
Login credentials for existing Chase account
Once you've completed the application, you can start to transfer funds over, and your kid will receive their debit card within 7 to 10 business days.
Learn More:
Security
As one of the biggest banks in the US, Chase provides industry-leading security.
For starters, Chase Bank's Security Center provides helpful tools to avoid fraud and unauthorized account access.
Sensitive information is protected by 128-bit encryption, multi-factor authentication, and continuous fraud monitoring.
You can also ensure safe banking for your child by enabling alerts, spending limits, and locking their account if their debit card is misplaced.
Last but not least, Chase is an FDIC-insured institution, so all accounts are covered for up to $250,000.
Customer Service
If you need help with your kid's account, Chase has plenty of options for customer support.
You can head into your local Chase branch, scroll through FAQs in the online help center, or get someone on the phone.
Like most big banks, Chase isn't known for providing a high level of customer service, and it has a rating of just 1.4 stars on Trustpilot.
Pros & Cons
Pros:
Mostly fee-free
Convenient mobile banking
Easy for parents to manage
Top-rated kids bank account
Cons:
Limited ATM network
No direct deposit
No savings APY
No sign-up bonus
Alternatives to Chase First Banking
There are a ton of checking accounts for kids, but unfortunately, most of them come with a fee.
Platforms like FamZoo and goHenry provide many added features, but both come with a monthly charge.
If you aren't a Chase customer and don't want to become one, you can still use Greenlight, the app that powers Chase First Banking.
Greenlight's non-Chase version of its product costs $4.99 per month but comes with added features like a kid-friendly investment platform.
Another option is Chase High School Checking, which is a checking account designed for teenagers. It's similar to First Banking but has the options for direct deposit and Zelle transfers.
FAQs
Is Chase First Banking good?
Yes. Chase First Banking is a solid option for current Chase customers who want to teach their kids about banking.
There are alternative kids' accounts that come with expanded features, but if you're already banking with Chase, it's hard to beat the convenience of Chase First Banking.
Is Chase First Banking free?
Mostly. There's no monthly fee for the account, and aside from some small, avoidable fees, the account comes free of charge.
Does Chase First Banking have direct deposit?
No. If you're looking for a kids savings account that can link with direct deposit, check out Chase High School Checking.
Does Chase First Banking have Zelle?
No, Chase First Banking is not compatible with Zelle. The only way to transfer money to the account is to directly transfer from the linked parent checking account.
Is Chase First Banking Right For You?
If you want to set your kids up for personal finance success, it's essential to start early.
Money management skills are best learned through hands-on practice, and having your own bank account is a great way to learn the basic principles.
With that said, Chase First Banking is a near-perfect entry point for young people. The account is free and comes from an established financial institution.
It's also easy to use, with convenient features that safely enable kids to spend, save, and earn money.
While there are some limitations, current Chase customers should feel confident to get their kids signed up.
You've already taken the first step in giving your child the tools to build a positive financial future. Now that you know what to expect with Chase First Banking, it's time to take the next one.