American Express is a BankBonus.com advertiser.
Families with large grocery bills can rack up some serious cash back rewards with the American Express Blue Cash Preferred Card. The card is also also great for rewards on streaming services, gas, and transit costs.
American Express has quite a few welcome offers on their credit cards, starting with their Blue Cash Preferred Card. Here you can earn $250 back as a statement credit after making $3,000 worth of purchases within the first six months.
The card offers 6% back at U.S. super markets (on up to $6,000 per year in purchases, then 1%), 6% on select U.S. streaming subscriptions, 3% on U.S. transit and gas stations, and 1% on all other eligible purchases. *terms apply.
Once you've earned at least $25, you can choose to receive your rewards as statement credits, gift cards or merchandise.
How To Earn The Bonus
The Blue Cash Preferred® Card from American Express promotion requires you to make purchases using the account's card in order to earn the $250 bonus.
Full requirements to receive this bonus are:
Apply for a new Blue Cash Preferred® Card using the link below.
Within 6 months, spend $3,000 using your new card to earn $250 as a statement credit.
Bonus will be credited within 8-12 weeks of meeting the requirements in the form of statement credits.
Learn more about the Blue Cash Preferred® Card from American Express bonus offer before it expires
The fine print
Offer is only available to new Blue Cash Preferred® Card Members.
Eligible purchases can be made by the Basic Card Member and any Additional Card Members on a single Card Account.
Purchases to meet the spend requirement do NOT include fees or interest charges, cash advances, purchases of traveler's checks, purchases or reloading of prepaid cards, purchases of gift cards, person-to-person payments, or purchases of any cash equivalents.
Additional Card Members on your account are not eligible for this offer.
To receive the statement credit, your Card account must not be past due or cancelled at the time the statement credit is posted to your Card account.
For the Amazon offer, eligible purchases include purchases of products and services, minus returns and other credits.
Purchases must be made at Amazon.com, or via the US Amazon mobile app using your new Card.
Excludes purchases of Amazon.com and third-party gift cards, as well as corporate gift card and custom-designed gift card purchases.
Not valid at international sites owned and/or operated by Amazon or websites affiliated with/linked to/from Amazon.com. Offer not valid for Amazon Go, Amazon Local, Amazon Mechanical Turk, Amazon Web Services, Amazon Home & Business Services, Amazon Currency Converter, Home Services, Prime Photos, Amazon Inspire, Amazon Video Direct, Amazon business, Amazon Global, or Amazon Drive.
How does this Personal Card from Amex compare?
To help you determine how this bonus stacks against the rest, here are some of the most popular offers available right now:
Citi®
Citi Premier® Card
Bonus

60,000 Points

Account Type

Personal Card

Annual Fee

$95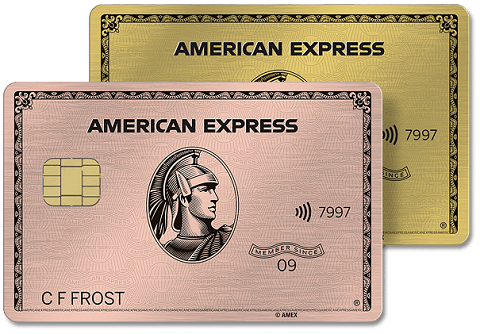 Amex
American Express® Gold Card
Bonus

60,000 Points

Account Type

Personal Card

Annual Fee

$250
Citi®
Citi® Double Cash Card - 18 month BT offer
Account Type

Personal Card

Annual Fee

$0
Why American Express?
As one of the most recognizable brands in the world, the odds are that you've heard of American Express. This New York-based financial institution has been around for over 170 years and is best known as a credit card issuer, with more than 20% of all American credit card transactions coming from an Amex card.
But did you know that Amex offers more financial products than just credit cards?
Through its Salt Lake City-based consumer banking subsidiary, American Express National Bank, Amex also offers online high-yield savings accounts and Certificates of Deposit.
Amex doesn't often run promotions for their savings products (and when they do, they're typically targeted offers that you'll need to receive directly), but they do have several bonus offers and incentives for new credit card holders from our partners.
Learn more in our American Express review
Learn more about the Blue Cash Preferred® Card from American Express bonus offer before it expires
This content is not provided by any company mentioned in this article. Any opinions, analyses, reviews or recommendations expressed here are those of the author's alone, and have not been reviewed, approved or otherwise endorsed by any such company. BankBonus.com does not review every company or every offer available on the market.