If you love to travel, you know how expensive it can be. Between airfare, hotels, and eating out, your credit card bill can add up quickly. But if you can manage your credit responsibly, I always recommend racking up as many credit card miles as possible.
Whether you score a free hotel stay, a discount on an international flight, or even a first-class upgrade, you can use credit card miles to your advantage. But how exactly do credit card miles work, and how can you get the most out of them?
Keep reading to learn everything you need to know about credit card miles, including how to earn them, redeem them, and more.
What Are Credit Card Miles?
Credit card miles, also known as frequent flyer miles or airline miles, are a standard credit card perk. They're similar to credit card points but come with the caveat that you can usually only use them toward travel purchases.
Credit card miles are a common component of loyalty programs for travel-focused credit cards. Most miles are airline-specific, while others might be more widely usable — it all depends on the card.
Some cards allow you to earn miles every time you swipe. Others might only issue miles or points when you spend money on travel. No matter what kind of travel card you have, you likely have some opportunities to earn bonus miles.
Frequent Flyer Rewards
If you're a frequent traveler, credit card miles are one of the best perks to look for in a credit card — especially if you tend to use a specific airline. Frequent flyer programs can save you a ton of money, and you can easily earn yourself some free flights just from your everyday expenses.
You can generally think of credit card miles as membership reward points. While the way you can use them might be a little more limited, they follow the same basic concept: spend money with your credit card and get something in return.
How Do You Earn Credit Card Miles?
In general, the more you spend, the more you earn. The number of miles you earn depends on how you use your card and any available bonus multipliers. For example, with the Capital One Venture card, you earn 2 miles per dollar, no matter what you spend on. On the other hand, the Citi American Airlines AAdvantage MileUp card earns double miles at supermarkets and on American Airlines purchases, while everything else earns single miles. It's all about tailoring your credit card to your lifestyle.
Before you apply for any card, it's important to understand the categories that offer bonus miles. For example, if you don't eat out much, you don't want a card that rewards you for restaurant spending. The key is to understand how you spend, so you can get the most out of your rewards credit card.
Plus, if you're opening a new airline credit card, you're almost certainly in line for a sign-up bonus. These bonuses usually require you to spend a certain amount in the months following your approval and can get you off to a great start with miles or travel points. As an example, American Express Gold cardholders can earn 60,000 bonus points when you spend $4,000 or more in your first six months with your new card.
Also, if you like the card you end up with, you can earn even more by bringing more customers in. Most credit cards come with a referral program, and your issuer will gladly reward you for getting your friends and family to sign up.
If you travel a lot for work, you can potentially earn a ton of miles without spending anything personally. If your job allows it, offer to cover your expenses with your personal travel card. This way, you can enjoy the benefits of the miles and get reimbursed later for the travel costs.
How Much Are Credit Card Miles Worth?
The value of your miles completely depends on your credit card company and the specific airline. Miles typically carry a similar value as general credit card points (around $0.01 per mile), but again, it varies.
This is where you should look into several types of credit cards. Then, as you compare cards against each other, you can narrow it down to what makes sense for you. The highest-earning cards typically require an excellent credit score to qualify, but you can still get a good one even if you're working on building your score.
When checking out different cards, don't just look at how many miles you earn per dollar spent. Instead, focus on what you can do with those points. For example, 50,000 bonus miles might sound awesome, but if those particular miles carry a lower value than 40,000 with another card, you might be missing out.
Also, the value of your miles isn't always as simple as a dollar value. For example, if your credit card has a high annual fee, you need to factor that into your miles' total value. Similarly, if your rewards program offers other perks in addition to your miles, like cashback or free TSA pre-check, you can factor that into your rewards rate.
With that in mind, think of your credit card miles or points as free money — as long as you use them correctly. The main benefit of a credit card, other than building your credit score, is the rewards that come with it. However, if you overspend, or fall behind on paying your monthly balance, you'll quickly erase your profits.
How Can You Redeem Credit Card Miles?
When it comes to redeeming your miles, it varies. Redemption options depend on the credit card and airline, and different providers pay differently. Most commonly, you can use your credit card miles to book flights, upgrade your seat, or cover other airline fees like baggage. Some cards offer statement credits after you make a purchase, while others might allow you to book travel with your points or miles directly.
Your miles also aren't necessarily limited to air travel. Some may allow for use on cruises, rental cars, hotels, or other non-flying travel expenses. There's also a significant difference between most airline credit cards and travel rewards cards.
You're often tied to an airline loyalty program with an airline-specific card, such as Delta SkyMiles. This means that your miles are only valuable with that single airline partner. This is great if you have a favorite airline that you always use. You also might earn other perks like priority boarding, but again, only with a single airline.
With a general travel card, you have more flexibility. You can choose between different airlines, and you'll probably have more varied retailer card offers. You also might see more eligible purchases that earn reward points. You might even find it easier to transfer points to a different card.
So, to sum it up, there are many different ways you might use your credit card miles. Since there are so many credit card options, the usability of your miles has a pretty wide range. My advice is to focus on what you want to use your miles for. If you do that, the right credit card for you will seem a lot clearer.
Which Credit Card is Best for Airline Miles?
As you look around for the best airline credit card, there are a few things to consider. The first, of course, is how much you stand to earn. From there, you want to look at the annual fee, along with any other potential benefits. Finally, you need to decide if you want an airline-specific card or a general travel card. As I mentioned, there are pros and cons to each, so it comes down to what you need and how you plan to use your card.
Here are some of the best cards to check out as you begin your search:
Chase Sapphire Preferred® Card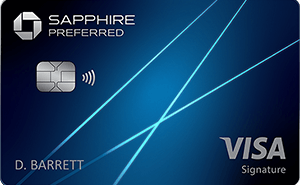 Chase Sapphire Preferred® Card
Annual Fee

$95

Intro APR

N/A

Regular APR

21.49%-28.49% Variable
In the world of travel cards, the Chase Sapphire Preferred Card is hard to beat. Its low annual fee, perks, and travel rewards make it a perfect fit for travelers looking to rack up rewards for their next trip or for seasoned pros looking to combine forces with multiple Chase cards.
Pros
High rewards
No foreign transaction fees
1:1 point transfer to partners
Cons
No intro APR
Lacks some luxury travel benefits
Chase Bank is offering 60,000 Points when you open a new Chase Sapphire Preferred® Card Details below!
How To Earn The Bonus:
Apply for a new Chase Sapphire Preferred® credit card using the link below.
Within 3 months, spend $4,000 using your new card.
Bonus will be credited within 6 to 8 weeks in the form of 60,000 points, which can be redeemed for $600 cash or $750 in travel rewards.
Learn More:
Capital One Venture Rewards Credit Card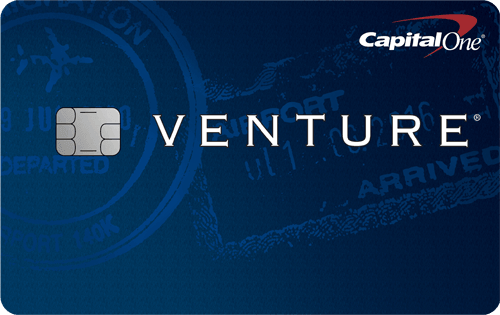 Capital One Venture Rewards Credit Card
Annual Fee

$95

Intro APR

N/A

Regular APR

19.99% - 29.99% (Variable)
The Capital One Venture Rewards Card is an advantageous travel rewards card if you're looking for straightforward flat-rate miles on all purchases, rather than just travel or other bonus categories. It also offers the option to earn higher rewards when you book trips through Capital One Travel and provides some rewarding travel benefits.
Pros
High unlimited rewards
Welcome bonus miles
Global entry/TSA precheck credit
Capital One is offering 75,000 Miles when you open a new Capital One Venture Rewards Credit Card Details below!
How To Earn The Bonus:
Apply for a new Capital One Venture Rewards Credit Card using the link below.
Within 3 months, spend $4,000 using your new card.
Bonus will be credited to your rewards balance within 2 billing cycles.
Chase Sapphire Reserve®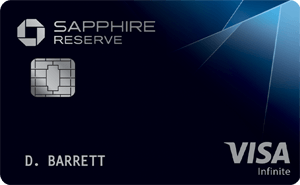 Chase Sapphire Reserve®
Annual Fee

$550

Intro APR

N/A

Regular APR

22.49%-29.49% Variable
The Chase Saphire Reserve card is one of the best travel cards on the market, with a ton of premiere perks like lounge access, excellent rewards, and account credits. If you're a frequent traveler and take advantage of all the card has to offer, you can easily offset the annual fee.
Pros
Several transfer partners
Great welcome bonus
5x points on bookings through Chase Ultimate Rewards
Cons
Steep annual fee
Excellent credit required
Chase Bank is offering 60,000 Points when you open a new Chase Sapphire Reserve® Details below!
How To Earn The Bonus:
Apply for a new Chase Sapphire Reserve ® credit card using the link below.
Within 3 months, spend $4,000 using your new card.
Bonus will be credited within 6 to 8 weeks in the form of 60,000 points, which can be redeemed for $600 cash or $900 in travel rewards.
Learn More:
Honorable Mentions
Southwest Airlines Rapid Rewards Plus Card
If you're a Southwest flyer, you can earn 50,000 bonus miles when you spend $1,000 or more (within three months) with the Rapid Rewards Plus card (issued by Chase). You also automatically get 3,000 free miles on your card opening anniversary each year, plus double points on any Southwest purchases.
There's a $69 annual fee, but that's canceled out by the $75 Southwest travel credit each year. Plus, you're in line for four free seat upgrades per year, though this depends on availability.
JetBlue Plus Card
From Barclay's comes the JetBlue Plus credit card, which offers 40,000 bonus points when you spend $1,000 or more within 90 days after opening. You get 6x points on all JetBlue purchases, plus double points at qualifying restaurants and grocery stores. You also get a free checked bag on all JetBlue flights and 0% APR for your first 12 months.
United(SM) Explorer Card
Finally, there's the United Explorer credit card for loyal United customers. Another offering from Chase, the card comes with 60,000 bonus miles after spending $3,000 within three months.
You also get double miles on virtually any United purchase and a free first checked bag on every flight. The Explorer card also ensures priority boarding and 25% off all in-flight purchases like food, Wi-Fi, and more.
Frequently Asked Questions
How do you value credit card miles?
It depends on the credit card mileage issuer. Overall, one mile is worth about one cent.
You'll almost always find the most value booking flights or hotels with travel cards. However, you may need to book them directly through your credit card app to access the best deals.
As always, terms apply. Be sure to fully understand the fine print with any credit card agreement so that you can enjoy the miles you earn.
How do credit cards calculate miles?
Credit cards generally calculate miles based on how much you spend. Typically, you can earn one mile per dollar spent. Some cards offer bonus miles for certain spending categories. It all depends on the terms of your card issuer.
How much is 100,000 miles worth?
Based on the standard one cent per mile valuation, 100,000 miles is worth around $1,000. This is enough to cover most round trip international economy class tickets.
What does 50,000 miles get you?
It depends, but based on the standard one-cent-per-mile valuation, 50,000 miles is worth around $500. This amount will cover most domestic round-trip economy fares.
Save on Travel with Credit Card Miles
If you want to save some money on travel, signing up for a credit card that churns out miles is a great way to do it. When used correctly, airline miles are essentially free gift cards for your adventures. You can use them to book flights, pay for upgrades, and more, and you can stack them up just by doing your normal swiping.
Now that you know a little bit more about miles and how they work, you can get out there and start earning them. As you get used to having a travel credit card, you'll increasingly learn how to maximize its benefits. It's all part of learning how to make banks and credit cards work for you, and not the other way around.