Charging purchases to a credit card — with a magic wave of the phone or swipe of the card strip — is easier than ever. With high interest rates though, many consumers are shying away from this form of payment in favor of cash.
But in many scenarios, it can literally pay for you to use your credit card with the cash-back bonuses and other perks they may come with – lucrative rewards you can't afford to skimp on now.
Also when used wisely, credit cards can build your credit history (and improve your credit score), save you thousands of dollars on interest, and unlock exclusive discounts and VIP access to events.
9 Things You Should Always Buy with a Credit Card
Here are the top things you should always buy with your credit card so you can make the most of your rewards.
1. Travel
When it comes to booking travel and making travel-related purchases, credit cards are the best payment method for many reasons.
Hotels and rental car companies prefer payment by credit card, and for some, it's an outright requirement. (This makes things simpler; if there's damage to your room or car rental, they'll add the charges to the card on file.)
Free rental car insurance (for vehicle collision or other damage) comes with many credit cards, so putting your rental on plastic could save you thousands of dollars.
Rewards are typically more generous for travel purchases. The best travel cards will offer higher cash-back percentages for travel category purchases, or extra bonus points, perks or frequent flyer miles.
Travel-focused cards offer extra protection in the event of trip cancellations, flight delays, lost baggage, or other common issues. In some instances, your credit card may offer services like a courier bringing your lost luggage to your doorstep.
Special amenities. With the American Express (Amex) Platinum Card, you can get VIP lounge access at over 1,400 airport lounges. Capital One Venture X offers access to over 1,300 lounges. With either of these cards, you can bring up to two guests with you. Many airline co-branded cards offer other coveted perks, like priority boarding, free checked baggage, or companion tickets.
Avoid fees during international travel. Foreign transaction fees can be as high as 3% for using your credit card or debit card But some credit cards have 0% foreign transaction fees like Chase Sapphire or Capital One Quicksilver. Some cardholders, like Amex, may charge an annual fee instead of any international transaction charges.
Better security and fraud protection. While this is always important, it becomes especially so during travel. If someone steals your credit card or just skims the number, you can dispute the charges and they may never post to your account. With a debit card, those funds can be removed from your account directly and much more quickly. The process of disputing the charges as fraud and recovering stolen funds can take more time.
2. Gas
Buying gas with your credit card offers you greater protection at the pumps and even more rewards.
Most rewards credit cards offer you higher rates of cash back or more rewards points for your purchases at the gas station. The Discover IT card, for example, offers 1% cash back on all purchases but 2% cash back for fuel. Additionally, each quarter Discover IT offers card members 5% cash back at featured merchants or for a particular category, which can include fuel.
Security is another excellent reason to use a credit card—even without rewards—to pay for gas. Gas stations are one of the easier places for card thieves to collect or "skim" card numbers from the card readers at the pumps.
A debit card user can be held liable for up to $500 in losses if fraudulent activity on their card isn't reported within two days. And if fraud isn't detected and reported within 60 days, you could be liable for all fraudulent charges. Since the numbers are only skimmed and the physical card never goes missing, many debit card users do not notice the theft right away.
Credit card companies offer greater fraud protection here, limiting a cardholder's liability to $50 at the very most.
3. Groceries
You could earn up to 6% cash back by using your credit card to buy groceries — and this is on top of any supermarket loyalty programs that offer BOGOs, discounts, or fuel savings perks too.
With inflation driving grocery prices through the roof, cash back from credit cards offers a small silver lining.
In terms of the best grocery reward credit cards, the American Express Blue Cash Preferred Card leads the pack offering 6% cash back for your supermarket spending. Other outstanding credit cards for groceries include:
Capital One Savor Cash Rewards Credit Card: 3% cash back for groceries and up to 10% on other purchases.
Bank of America Customized Cash Rewards Credit Card: 2% cash back on groceries and purchases at wholesale clubs.
Citi Custom Cash Credit Card: Up to 5% cash back on up to $500 in spend per billing cycle — includes in-store and online purchases.
Amazon Rewards Visa Signature Credit Card: 3% cash back on Amazon.com and Whole Foods purchases, including Amazon Pantry and Amazon
Cash-back apps like Ibotta, Fetch, and Shopkick also offer you cash back for your grocery store purchases. You can stack up the savings to eke out the most rewards!
4. Dining Out
Going out to eat is getting a lot pricier these days – even fast food. But if you are going to dine out, you may want to put it on your credit card. Many cards offer double or triple bonuses on any restaurant purchases, with cash-back percentages as high as 5%.
Additionally, using a credit card when dining out offers you an added layer of protection. Restaurants are another common place where credit card numbers are skimmed, or fraud is committed. Commonly, a wrong credit card tip is entered (perhaps in error) and these charges can go unnoticed for several days or more – often, they never get caught. (This is another good reason to read through the credit card bill each month so you can dispute any unauthorized charges.)
Restaurants may offer gift card promotions, i.e., buy a $50 gift card, get a $20 gift card free. Use your credit card to buy the restaurant gift card and stack up the rewards.
5. Electronics and Other Expensive Consumer Items
The next time you make a spendy purchase, put it on your Mastercard, Visa, or other major credit card. There are several benefits to opting to charge it instead of using your debit card or cash including:
Purchase protection: This feature protects against theft, damage, or loss of goods bought with your card (i.e., the order never arrives at your address) — as long any such incident is reported within 90 days from the date of purchase. This protection can also function as a form of extended warranty. For example, if you purchase a new printer and it breaks (within a few weeks), then the card's purchase protection would cover repairs or a replacement printer.
Extra cash-back bonus: Getting a 1% to 10% cash-back bonus is always a nice perk, but when buying a spendier item—like a laptop, furniture, or fine jewelry—the cash back can really add up.
Interest-free financing: Some credit cards offer a 0% APR for the first 6 to 18 months, which can help finance certain types of larger purchases like appliances. Just make sure to pay the credit card balance in full before the 0% APR period is over, or you could be on the hook for interest on the current balance and cumulative back interest from the date you opened the card. You'll typically need very good credit to qualify for this type of credit card
Any of these three benefits can save or earn you thousands of dollars in the form of purchase protection, cash-back rebates, and savings on interest.
Whenever possible, make your purchase through a cash-back shopping app like Rakuten, Honey, or Capital One Shopping. In addition to savings and cash back from your credit card, you can earn additional cash-back bonuses through these deals portals.
6. Streaming Services
Streaming services are another purchase you should consider putting on your credit card each month. In addition to the ease of set-up and cash-back bonuses, the right credit card can help you earn media content-related rewards, like the Apple Credit Card or Amazon Prime Signature Visa Card.
Additionally, you won't need to worry about overdrawing your bank account each month to get your Netflix fix.
With so many different recurring bills each month, it can be easy to lose track of what's coming due. Recurring monthly charges are a common reason people accidentally overdraft their checking accounts and muck up their personal finances.
If your streaming services are billed to a credit card, you won't have to worry about that, which is much better than logging in to your bank account and seeing a negative balance
7. Event Tickets
If you love attending live shows, you know that event tickets are expensive. The cost to get good seats can rival prices of first-class airline tickets and major shopping mall sprees, which is why putting event tickets on a credit card is a good idea.
There are credit cards specifically designed with the concertgoer in mind, offering up to 8% cash back on ticket purchases, special discounts, early bird buying, and exclusive event seating or backstage access.
Capital One SavorOne Credit Card offers presale tickets and 8% cash back on events sponsored by Capital One
Chase Sapphire Preferred Credit Card offers exclusive tickets, event experiences, and preferred seating.
Amex Platinum Credit Card offers presale tickets and exclusive events through American Express Experiences, access to Amex concierge to book tickets, and extra points on travel (5X points for eligible airfare and hotel purchases — up to $500K per calendar year).
Earn up to 25% cash back when you buy event tickets with Rakuten. Earn cash back rebates for booking event tickets through Ticketmaster, Vivid Seats, StubHub, Live Nation, and many other concert ticket aggregator sites.
8. Cell Phone Bill
Your cell phone bill is another monthly charge you should consider paying with your credit card. In addition to not accidentally overdrafting your bank account, you can get other benefits when you use a credit card centered on phone rewards, like cell phone protection, wireless credit, and up to 5% cash back.
The U.S. Bank Cash+ Visa Signature Card, for example, offers 5% cash back on any two categories you choose and 2% cash back on one everyday category (like gas or groceries).
Many business-centered credit cards, like the Business Platinum Credit Card from Amex, offer extra bonus points and protection on business-centric purchases, including software, hardware, cloud systems, smartphones, and cellular data.
9. Utilities
Charging your internet, electric, and other utility bills to your credit card is another way to rack up rewards. While utilities might seem like other bills you pay—in addition to your credit card statement—you can earn cash back and perks for charging utilities too.
Like travel, dining out, and other popular categories, you can find credit cards specially designed to offer utility-related rewards.
Many credit cards that offer special cash back and reward bonuses for streaming subscriptions, cell phone protection, business utilities, or home utilities.
Using a credit card for these bills is also helpful for:
Tracking expenses: Helpful for bookkeeping and taxes.
Monitoring usage: Using a credit card makes it easy to monitor usage (with category spending reports, graphs, and charts) — very helpful since major spikes or drops in usage can indicate other underlying issues.
Seamless service: Since you don't have to submit billpay or mail in a check, you don't have to worry about an interruption in internet or other utility coverage.
Building credit: If you have damaged credit, your credit card may have a limit of $150 to $500. Some, or all, of your utility bills, will generally fit within this cap. Charging them to your card each month and paying off the balance in full can help you build credit and keep the lights on.
With many Americans working fully remote or hybrid, a good chunk of your Internet and utility bills may be tax deductible. Make sure you're tracking and claiming these expenses.
Other Benefits of Using a Credit Card for These Purchases
In addition to earning great rewards for using your credit card to purchase travel, tickets, and other small and big-ticket items, there are other benefits to using plastic.
It's easier to track all of your spending (including spend by category), budget, see increases in costs by category, and make money-saving moves. (i.e., If you notice your Internet bill going up by $25 one month, it may lead you to switch to a cheaper provider.)
How to Pick the Best Credit Card
We've shared some of the better credit cards available for certain categories of spending. Selecting the best credit card for you will depend on many personal factors.
What's your credit score? Whether you have excellent credit or you are in rebuilding mode, the type of credit you have will guide the card that's right for you.
Are you willing to pay annual fees? Often cards for users with excellent credit or poor credit have fees. Those who are rebuilding credit may need to pay an upfront deposit (a similar amount to an annual fee), and some of the best credit cards with the most lucrative rewards programs have annual fees ranging anywhere from $50 to a couple of hundred dollars.
What's the interest rate? While we don't advise you to carry a balance, it's worth comparing interest rates side by side. If you do have to carry a balance for one month, it's better to pay 18.95% than 29.95%. Also, in some situations, it may make sense to do a balance transfer of credit card debt onto a 0% APR credit card.
What rewards do you want to earn? Do you want to earn points, miles, or cash-back rebates? What rewards do you value? Do you want points that can be cashed out for gift cards, or for physical gifts? Generally, cash-back rebates—with their transparency—are the best deal, but not always.
What sorts of charges do you make? If you travel frequently, a card that gives travel-based rewards may be the right choice. Or if you're a small business owner, you may want a card that offers special discounts and perks for your office purchases.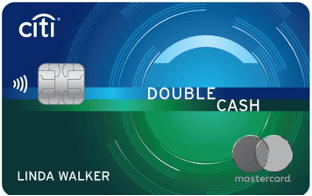 Citi®
Citi® Double Cash Card - 18 month BT offer
Account Type

Personal Card

Annual Fee

$0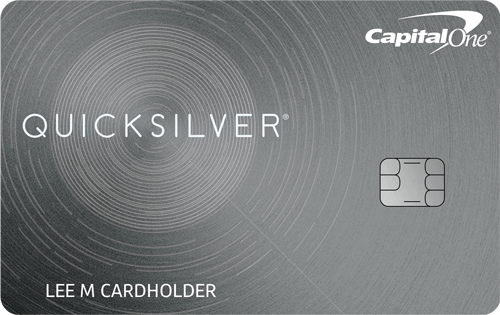 Capital One
Capital One Quicksilver Cash Rewards Credit Card
Bonus

$200

Account Type

Personal Card

Annual Fee

$0
Discover
Discover it® Cash Back Credit Card
Bonus

Cash Back Match

Account Type

Personal Card

Annual Fee

$0
You can put just about anything on your credit card. In addition to charging groceries and gas, you could even put a house on your charge card. (Of course, it's rarely a good idea.)
But the list we've shared of the best things to buy with a credit card is a solid starting point. Charging these everyday items to your card can help you reap the best rewards, build and maintain your credit history, offer credit protection on purchases, and provide stronger consumer protection in case of credit card skimming or fraud.